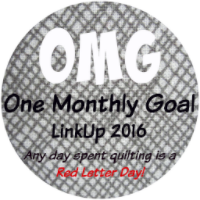 With the
OMG challenge
(which stands for One Monthly Goal!)
for February
I intend
to get this
Valentine Panel wall hanging done. So apropos, don't ya' think?
Thanks Heidi for the incentive and encouragement!
This is another pig that's been around for ages!
Then with the
UFO challenge through all People quilt
number 5 being selected for this month, means that my Red and White Challenge will be my "focus project" this month. Just love the incentives both of these programs offer. Not sure what to do for pics for the latter though since many friends follow my blog and are doing their own thing for the Red and White Challenge that the CVQG guild is hosting.
I'll share just a glimpse of the fabrics I need to use for the red and white.
I did pretty well in January getting that Hungry Caterpillar pillow totally finished. Beside that I did get the Christmas Apron done and all the counted cross stitch wording stitched onto the bottom of The Red Thread designed by Bent Creek that I've been persistent with. 8
<
)
Grabbed this pic as a thread audition. The pattern calls for that weathered barn but I'm leaning toward using the Weeks Dye Works Bark so the red thread in the calendar blocks stands alone as the red thread.
The only project not worked on or realized was that Hockey seat cushion - so I'll be trying to whip that up this month too.
Fingers crossed about that since this month is a super busy one! DH and I are celebrating our 42 anniversary tomorrow, the grands are here this week after school, we PGD#1 have a basketball game on Saturday and another out of town PGS#3 hockey tourney (travel time about 2 plus hours one way) this coming weekend AND the eldest grandson PGS#1 wants us to visit him this weekend before we head south for a vacation! Yep; busy, busy, but we're loving it. Maybe we could visit the eldest some evening since it's only 3 hours traveling time in a totally other direction to see him and celebrate our anniversary dinner in Lake Placid. I'll work it out.
Stay well and be happy.
Jane